February 12, 2020
by: Tracy Brookshier, Marketing Coordinator: Pike County Health Department Home Health & Hospice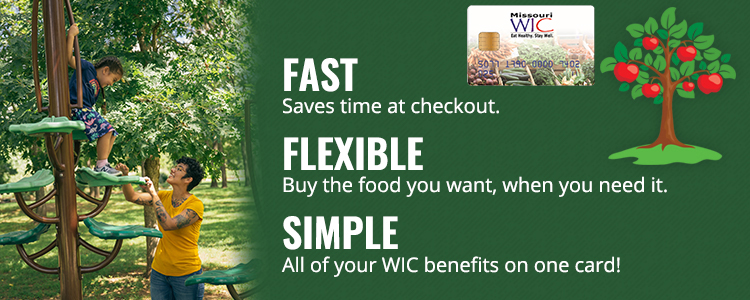 The supplemental food portion of the WIC (Women, Infants and Children) is given to clients through checks that are redeemable only at participating stores. WIC clients receive a paper check that allows them to purchase specific qualified healthy & nutritional foods. Each client meets with WIC staff on a regular basis to evaluate their needs and address any health concerns. Checks are then printed in office for the client to then take to a WIC approved store to purchase their items. The decision to go from paper checks to an electronic benefit transfer (EBT) card was to create an easier shopping experience. WIC families will be able to purchase products over multiple trips to the store rather than purchasing everything at one time during the month.
Benefits for each household will be on one card, rather than multiple checks, and issued for up to three months at a time for convenience. In-store transactions will be quicker. WIC food items may be purchased as needed throughout the month, instead of all at one time. Pike County WIC is expected to roll out the new E-WIC cards by spring 2020. The card will be re-loadable and they are not able to be used with self check-outs at this time as the technology is still under development by retailers. Current WIC Clients can expect to receive their E-WIC card at their next scheduled appointment after the roll-out has been completed.
WIC is the special supplemental nutrition program for women, infants, and children. WIC provides FREE services to pregnant women, new mothers, infants, and children until their 5th birthday. Services include
Nutrition education and guidance.
Breastfeeding education and support.
Nutritious food to supplement the participant's diet, such as milk, cheese, infant formula, iron-fortified cereal, eggs, juice, peanut butter, dried beans, fresh & frozen fruits and vegetables.
Referrals for health care.
We encourage those who think they may qualify to contact us for more information; if you have a family of 4 that makes less than $47,638 gross annually you likely qualify for this free WIC assistance. View the income guidelines chart and other information regarding qualifications by visiting our website at www.pikecountyhealth.org
For more information please call our office at 573-324-2111 or visit health.mo.gov/living/families/wic >>>